Making the decision to purchase a vehicle can be a stressful and time-consuming experience – especially in today's world, where most millennials dread being "sold" to. Many of the sales tactics used in the past only drive customers away in today's consumer landscape. When Customer Satisfaction Index scores directly affect inventory and the success of your dealership, it is crucial to take necessary steps to ensure your customers have a satisfactory shopping experience. Let's take a look at 5 customer pain points – AND how to combat them!
Pain Point #1: Dealer Distrust
We may as well get this one out of the way. Many consumers have a huge lack of trust towards dealerships – and a LOT of this distrust stems from years worth of negative experiences, back when the sales process was focused on high-pressure sales rather than the customer's experience.
It's safe to say that the industry has changed and the "COME ON DOWN NOW!" salesman stereotype is no longer common practice. However, that stigma still persists in the minds of consumers. How can your dealership regain trust in the eye of the consumer?

Tip #1: Understand Your Customer's Expectations
Take a moment to place yourself in your customer's shoes. Nowadays, many people tend to extensively research vehicles online before even stepping foot into a dealership. Most already have an idea of what they're looking for, and might not even be looking to make a purchase that day. It's important to read each customer's body language to get an idea of what their goal is – are they looking for assistance? Or are they just trying to browse the selection on their own time? If they're avoiding eye contact with you, that's a clear hint that they'd prefer to browse on their own.

If you're not sure what they're looking for, ask if there's anything you can help them with, or let them know that you're available to answer any questions. Keeping the consumer's needs in mind and letting them know that they're the one calling the shots, instead of the retailer, will help dissipate any high-pressure dealership assumptions they may have in mind.

Pain Point #2: Pressure to Buy
As previously stated, a majority of consumers have already done the research needed to have a general idea of what they're looking for. If a customer reaches out with questions, it's important to cater to their needs. Don't jump right into making a sale! This is a sure-fire way to backtrack into that high-pressure salesperson mindset.

Tip #2: Show, Don't Sell – Be a Reliable Resource
If the consumer's first impression of you is comparable to an unprompted telemarketer call, you've already got them hovering their thumb over a metaphorical "reject call" button. Show, don't sell. Ask questions to find out what they're looking for and if they already have a vehicle or two in mind. Then, go ahead and show them the special features the vehicle has.
If they did research online and are coming to the dealership, it is likely they want to see their options in person before making a purchase. Approach them as a reliable source of information who can offer advice to help them make an informed decision based on their needs.
Pain Point #3: Time-Consuming Process
Time is money – and in the case of making a sale, the amount of time it takes to go through the process of purchasing a car at a dealership can make or break a customer's experience – and in turn, your CSI score.

Purchasing cars online is no longer a dream, it's reality – one that people are turning to for convenience's sake. Malls faced a huge hit when consumers started ordering online instead of shopping in-store – after all, there's far less of a hassle when you can make a purchase with the click of a button! Even so, there are benefits to shopping at a dealership. Don't let wait times discourage consumers from shopping at your dealership.

Tip #3: Upgrade Your Payment Processor
If your current payment processor holds up the purchase process, that can have a disastrous effect on your CSI score. Imagine how many negative thoughts can pass through a customer's mind while waiting – or worse, dealing with technical issues that slow down the process even further!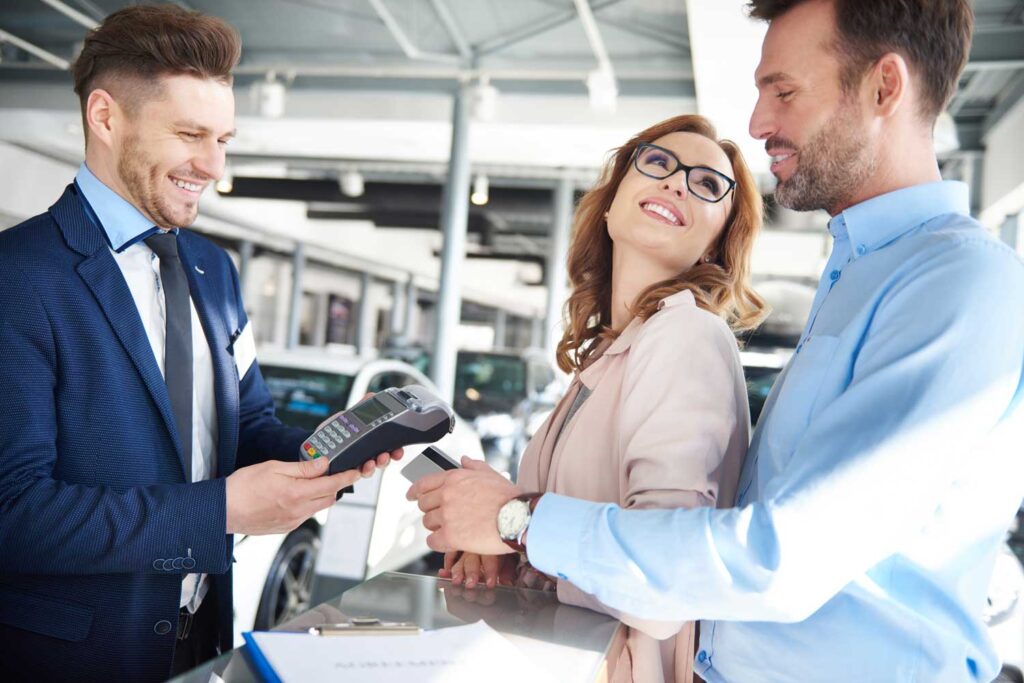 Dealer Pay offers Point-of-Sale solutions that are designed to improve your workflow – saving time for you AND your customers. Our payment solutions simplify payment acceptance with a secure and reliable platform, one that includes 3x as many ways to pay: in person/contactless, text/email hosted links and our safe/vault. Faster and more convenient ways to pay = more satisfied customers!
Paint Point #4: Phone Tag
Communication is key – regardless if a customer is at your dealership to make a purchase, get service done on their vehicle, or make a payment remotely. Ease of communication not only leads to faster transactions but a better customer experience overall if your customer feels like their needs are being heard and met. However, communication can be difficult when there are so many different things happening during the day. How can you streamline the communication process to make it easier for both the consumer and dealership?
Tip #4: Offer Multiple Means of Communicating
Everyone's lives are busy! Make things easier on your customers by giving them the option to choose how they would prefer to hear from you. Nowadays, texts are considered a less invasive means of communication that allows the consumer more flexibility with responding. Whether your customer prefers a call, email, or text, make sure your dealership has the necessary systems in place to offer them a choice. In turn, you're bound to receive better feedback! Get more ways to reach your customers with Dealer Pay's effective point-of-sales system – with authorizations, payment requests, and full transaction management!

Paint Point #5: Not Giving Back to the Customer
Similar to the high-pressure salesman stereotype, many consumers see car dealerships as businesses that will do anything to squeeze out a sale from a customer. The bargaining process is pre-determined to be brutal – and many consumers need to build themselves up to a certain mindset before even agreeing to move to that point! Don't let your customers see your dealership as a business only looking to make money. The incentives you offer as part of your bargaining chip shouldn't be seen as ways to tether a customer to your dealership – you want the customer to make that decision on their own accord.

Tip #5: Gift & Loyalty Programs
Did you know that 81 percent of millennial consumers say that being a member of a rewards program encourages them to spend more money with a brand? [Source: KPMG] Sure, dealerships offer incentives while bargaining on a sale – but will those incentives really keep the customer from shopping elsewhere? Rewarding a customer's loyalty not only attracts new customers but retains those already choosing your dealership. Dealer Pay offers customizable gift and loyalty solutions to help boost customer loyalty with unique rewards that are tailored to your dealership.

Positive CSI scores are crucial to the success of your dealership. Now's the time to take the necessary steps in order to meet your customer's expectations and needs. Here at Dealer Pay, we are committed to offering a wide variety of services to keep your business running efficiently. We have innovative services to help you manage all facets of your dealership, combating pain points with dealer-specific solutions! From sales and accounting to service and customer retention, Dealer Pay makes for happy employees and loyal customers!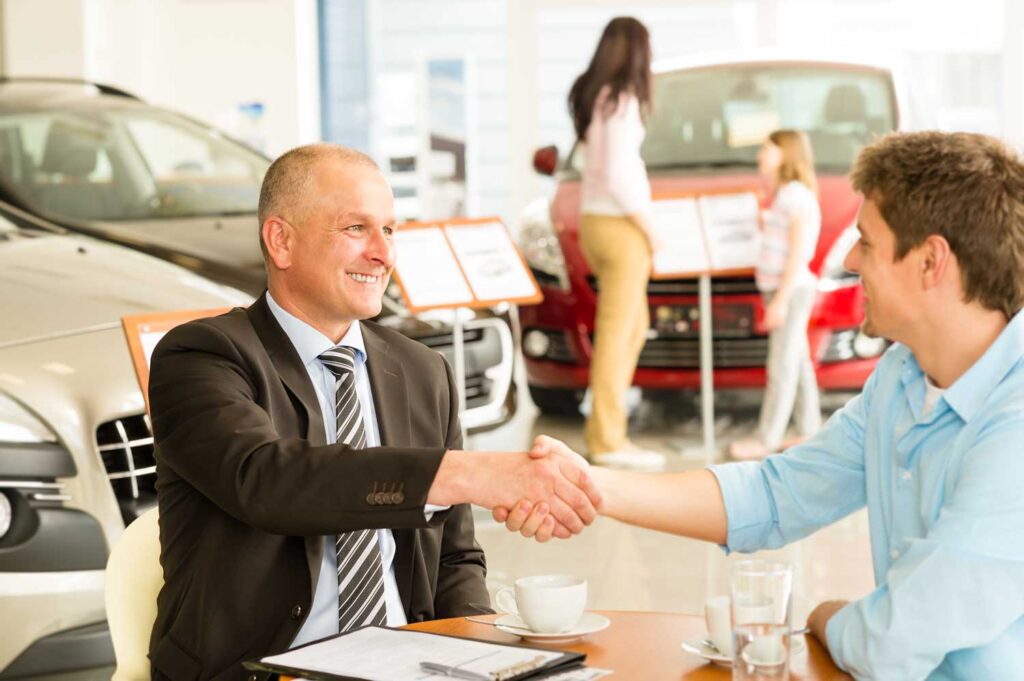 Whether you're ready for a test drive or plan to do more digging before making a decision, we're here to help: